Community
College streamen via Youtube
Beste collega,
voor een specifieke cursus heb ik uitgezocht hoe een college via Youtube te streamen is. Mijns inziens heeft streamen via Youtube een aantal voordelen:
1) bij een Youtube stream bestaat een chat functionaliteit hebt en kunnen studenten dus interacteren met je. Let wel, bedenk goed hoe je die interactie wilt monitoren/inrichten!
2) Youtube is op bijna ieder device af te spelen en vergt van de student geen installatie van extra software.
3) een Youtube stream wordt meteen opgeslagen en is naderhand terug te kijken.
Je hebt hier een aantal zaken voor nodig:
1) een microfoon (en eventueel webcam) op het device waarvan je streamt (noem mij een laptop die dat niet heeft)
2) powerpoint om je slides (in windowed mode*) af te spelen
*Slide Show > Set up Slide Show > Browsed by an individual (window) aanklikken.
3) stream software, OBS studio, is open source en beschikbaar voor alle grote platformen (Windows, Mac en Linux). https://obsproject.com
4) een Youtube account (als je een Google account hebt, heb je standaard ook een Youtube account als ik me niet vergis).
5) een stabiele internet verbinding, bij voorkeur via een bedrade aansluiting (ethernet).
Hoe dit verder op te zetten, kun je lezen in de handleiding die ik via onderstaande link beschikbaar stel:
https://surfdrive.surf.nl/files/index.php/s/EVnIzM6wUqjFMMi

Jeroen Benjamins
Universitair docent Psychologie.
---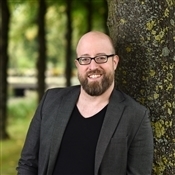 19 December 2020
---
If you want to comment, please login on the left side of the page with your UU account..
Gerelateerd