News
The Virtual Classroom in the spotlight
Even before the Covid pandemic, the Virtual Classroom within UU was realised with the idea of giving students and lecturers a remote 'natural' educational experience, comparable to education in a physical environment.
Does the Virtual Classroom work in practice? And if so, which elements contribute to this experience?
During the session on Friday 10 June from 12:00 until 13:30, you can experience it for yourself! We will evaluate based on experiences from educational practice and look forward together with lecturers and students.
Does teaching in the Virtual Classroom indeed feel more natural than behind the laptop screen? Does the position of the camera make the students feel more involved in the lesson? Which existing or additional interventions can (further) improve the involvement of students and teachers? In which situation would you like to be taught in the virtual classroom? Based on these and other questions, we will work together on a more complete picture of the wishes and needs surrounding the Virtual Classroom.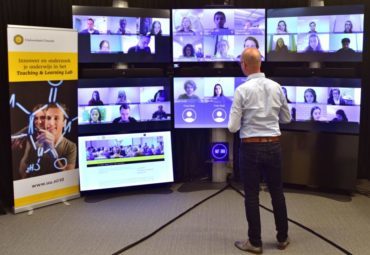 Would you like to experience the Virtual Classroom yourself and take part in the discussion? Then come to the Virtual Classroom on Friday 10 June from 12:00-13:30 in the Ruppertgebouw, room 1.39. Bring your laptop and earphones for a good student experience! Please register in advance via fls@uu.nl and we will provide lunch.
---
7 July 2022
---
If you want to comment, please login on the left side of the page with your UU account..