Teacher in the Picture
Teacher in the Picture: Sanne Akerboom
During the previous 'Onderwijsparade', Sanne Akerboom took part in the 'in conversation with the Teacher Talents' part of the programme, in light of her nomination as a Teacher Talent. Regarding that conversation, we wanted to speak with her in more detail about her work as a teacher. What does she like best about her job? And how did she come to be teacher? Read it here!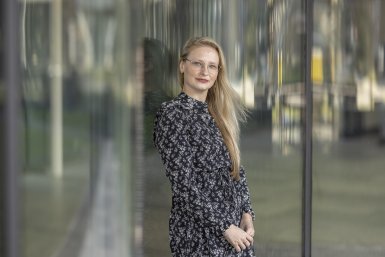 How long have you been working at Utrecht University?
For quite a while now, 5 years. I started there as a postdoc in 2017. I did two postdoc projects and that was at the faculty REBO. Since November 2020, I am a lecturer at the faculty of Geosciences at the Copernicus Institute for Sustainable Development.
In which field of study do you teach and do you carry out your research?
I mainly teach law. I now teach the course Environmental Law within Global Sustainability Science (GSS). This is an interdisciplinary programme consisting of four different tracks, and my subject falls within the track Governance and Societal Transformation. It falls within the Social Sciences, but it is really a law subject. I also supervise theses within Sustainable Business and Innovation, for example.
I myself have studied law and political science and, consequently. the focus of my research is also on law and government. My research is interdisciplinary and is about the regulation and governance of fair transitions, about what is fair? Is it about fair distribution issues or fair procedures, for example? And how do you capture that in regulation and governance?
Is teaching something that you have always wanted to do? Or did you happen to get into it?
When I started working as a student assistant during my studies, the opportunity came along to write a dissertation and in that process you notice that people also teach. That seemed like a lot of fun and that's how I got into it. I didn't necessarily always aim to become a teacher, but in my job now, I really enjoy teaching.
During the 'Onderwijsparade', you spoke about how proud you are of what your students can achieve within a relatively short time of eight weeks within your course. Do you have an example of how much progress a student can make in that relatively short time?
Yes! Law really is a field of study and besides just gaining knowledge, the skills you need in this field are actually even more important. Part of my job is the Legal Skills Lab where I work hands-on with students on legal texts. I try to give them the skills they need to solve a legal conflict. These are students who have not yet been introduced to law, so a legal text is quite challenging. At the end of the course, they are able to resolve a conflict themselves, and I think it's very impressive that they can achieve this in just eight weeks.
An ambition you mentioned for the Legal Skills Lab during the 'Onderwijsparade' was to create a serious game. Do you already have a clear idea about that game?
I actually already wanted to do that two years ago! What I would like to do with this, is to bring all those skills together at the end of those eight weeks and have the students solve a case step by step in a serious game. For me, this is also a way to test which skills are the least advanced and which the students have already mastered. In addition, it is of course fun! My idea would be to create a legal escape room where students have to solve a legal case in that space. During the 'Onderwijsparade', I also learned about the support that UU can offer in this. That was called Scholarship of Teaching and Learning and I did not know too much about that yet. So I am thinking about how I can best set up such a project within my own teaching, I would really like that.
Another ambition you mentioned was to appeal to the individual talents of students. How does that work in practice? I can imagine that it is difficult to divide your attention within a group of students.
Yes, it certainly is. I do a lot of the teaching in my subject myself, so I see relatively many students. I do the lectures, the tutorials and a large part of the Legal Skills Lab. Some students, I sometimes see six hours a week. In the tutorials, for instance, I have designed the teaching in such a way that the students always work in small groups and then someone from the group gives a short presentation about it, preferably always someone else. By working actively in small groups, I get a good idea of who has a natural talent and who has difficulty with the material. So by setting up the work format in such a way that all students participate, the different types of education and because I see them a lot, I get a good idea of how individual students are doing.
What do you like most about your job?
The contact with students! I just really like all of them, they are very involved and passionate about the climate, of course. During the break, I often join in with their conversation to hear what they are talking about, about what they are going to do at the weekend, that just makes it fun. They are also very interested in the field they are learning about. And within the subject specifically, I find the Legal Skills Lab the most fun; there, I really get to work actively with them.
Do you have any idea where you see yourself in five years?
No, not really. I recently started at the Utrecht Young Academy, which is for a period of five years, and I don't think I've ever committed to anything for such a long period of time. But to give an answer anyway, I think I see myself in the same place. I really enjoy my time at Copernicus, my research and my teaching, so much so that I can see myself still doing this in five years' time.
And how did you end up at the Utrecht Young Academy?
I was nominated! I really enjoy being able to contribute something to the collective with such a group of committed young researchers. We are concerned with the culture and environment in which people work and in which students study, and we try to make improvements when necessary. It is great fun to be involved in this.
Do you have any tips for other teachers?
I think it is very important to keep investigating what students respond to and where their talents lie. I myself always liked the lecturers who showed commitment; the ones who gave you the feeling that it would all work out in the end and gave you confidence. In any case, I myself strive to be personally involved with my students!
---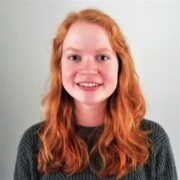 11 July 2022
---
If you want to comment, please login on the left side of the page with your UU account..