Blog
Session SIG Co-creation with dr. Catherine Bovill (University of Edinburgh)
Processes of co-creating education and research can be seen as a way of promoting democratic values in higher education. Those processes involve academic staff and students adopting a collaborative approach to the design and creation of learning and teaching activities. This ask for a shift in the teacher-student relationship, which can be challenging. Within the Special Interest Group 'Co-creation' we explore this theme further with colleagues that are interested in this subject.
On Monday 29 November 2021 from 12:00 to 13:15 the first session for this SIG of this academic year will take place! We will explore the topic: How to motivate students in participating in co-creation partnerships?
The session's theme is related to the question 'what's in there for students in curriculum co-creation projects?' In the literature, possible benefits for students in engaging in partnerships with staff members that are mentioned are a deeper engagement with their own learning process and with their institutions, which promote a sense of belonging to the academic community. Intrinsic motivation is an important drive for students, but it may not be sufficient for some to engage. In this session we will explore options for motivating students to participate in, and/or initiate curricular co-creation initiatives.
Anna Fial and Sophie Alkema, students of the program Human Geography and Spatial Planning at the faculty of Geosciences, will present on their experience with the co-creation of a course.
Our international guest speaker, dr. Catherine Bovill from the University of Edinburgh, will then respond to the students, and place their experiences in the context of motivating students to engage in student-staff partnership. Dr. Bovill has done extensive research on different ways of implementing student-staff partnership: she will illustrate a tool that she has developed, intended to support students and staff in identifying what particular kind of co-creation they are planning or doing.
During the session there will be plenty of time for questions and discussion.
Are you interested in attending this session? Please sign up via this link.
The session will take place in Microsoft Teams.
---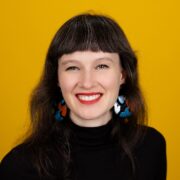 17 November 2021
---
If you want to comment, please login on the left side of the page with your UU account..